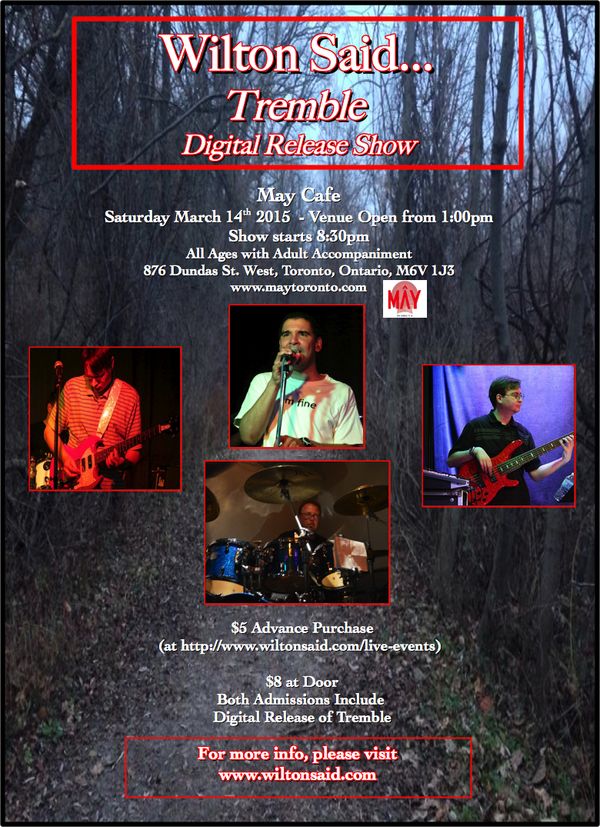 After more then a year, my band and I are ready to play and we're holding our "Tremble" Download Release Show featuring two sets of original Art Rock Music.  This show also features the debut of drummer Peter Karppi as he adds his percussive flair to our music.
All admissions include a code at the door for a free download of the upcoming "Tremble" E.P. Download Release.
I'll be opening the show with a short set of light acoustic numbers for your listening pleasure.
The show takes place on Saturday March 14th 2015 at May Cafe located at 876 Dundas St. West Toronto, Ontario M6V 1J3
It's a Vietnamese styled venue with Tapas and selection of alcoholic and non-alcoholic drinks.  Come on by for dinner and drinks before and during the show.
Venue opens at 1pm with the show starting at 8:30pm.
Cover at the door is $8.00
Advanced Purchases via Eventbrite is $5.00
http://wiltonsaid-tremble.eventbrite.ca
All Ages with Adult Accompaniment
For more information, please visit wiltonsaid.com