About NUANCE

NUANCE is the brainchild of Toronto Indie musical artist Wilton and is the vehicle for bringing together various Art Rock musical artists located in the Southern Ontario area. He has been instrumental in organizing and promoting the NUANCE Festivals and Showcases all geared towards promoting this style of music to fans of the genre.
The first two festivals took place at the Tranzac Theater while the third one was held at a Legion Hall as Wilton wanted to hold it in a more community based setting.
With the success of these festivals, Wilton thought it would be a great idea to hold these events on a more regular basis, and the NUANCE Showcases were born. It was decided that Sunday early evenings would be the best choice for the Showcases and the Black Swan on Danforth agreed.
To date, artists such as, Wilton's own band Wilton Said..., Ken Baird, Steve Cochrane, The Last Placid Days of Plenty, The Rebel Wheel, Half Past Four, COUNTERPOINT, Lorne Hind 360, Dream Aria, Hunter Eves, and Book of Gnomes have all graced the stage either at these festivals or showcases. For anyone who is unfamiliar with Art Rock, please read below for Wilton's take on the subject...
What the hell constitutes Art Rock?
There is no definite sound or style to Art Rock. It's more to do with the details of the music. The fact that there are details is a start. Examples found in Art Rock are, experimentation of sounds, odd and changing time signatures, multiple or unusual song structures, integration of other genres of music, creative, changing moods and or proficient playing at ones instrument.
Popular past and present Local artists that fall into this category are National Velvet, Jane Sibery, Twilight Rituals, Hawksley Workman and Rush.
Popular international artists would be Radiohead, Yes, Genesis, Bat for Lashes, Tori Amos, Jethro Tull, Soundgarden, Iron Maiden, A Perfect Circle, Catherine Wheel, Dream Theater, Marillion, Kate Bush, The Beatles, Queen, Phish and Queensryche, to name a few.
So I hope that gives you a bit of an overview of what NUANCE is all about and come on out and support the local Art Rock Indie Music Scene.
Thanks
Wilton
To contact NUANCE, please emal
HERE
NUANCE Fall Mini-Fest 2013
NUANCE Holiday Soundscapes and Toy Drive
NUANCE Holiday Soundscapes and Toy Drive
In Support of The United Way Toronto

Time to get into the Holiday Spirit with some Local and Live Art Rock Music.
Come on out, bring a Toy for a child in need and dance the night away to the sweet sounds of 5/8 time.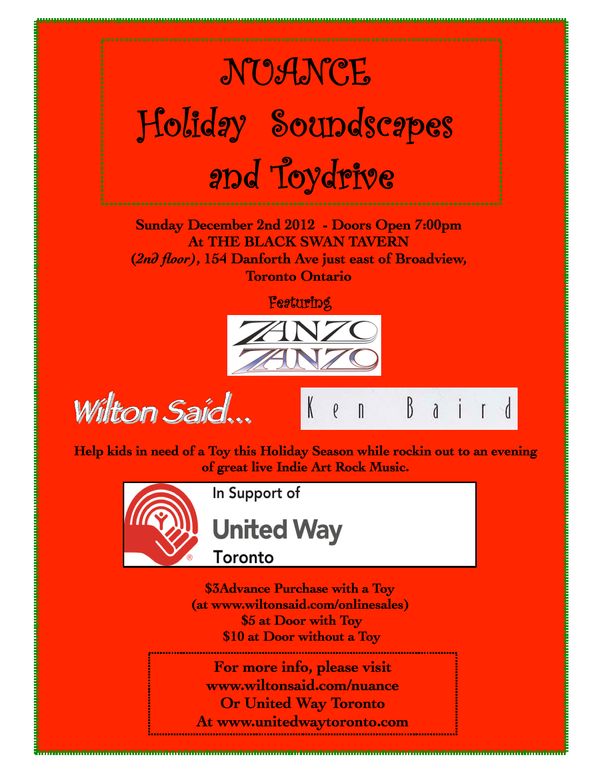 Featuring

Zanzo

http://m.reverbnation.com/artist/zanzo
Wilton Said...
www.wiltonsaid.com

Ken Baird

www.kenbairdmusic.com


Sunday December 2nd 2012
at the THE BLACK SWAN TAVERN (2nd floor), 154 Danforth Ave just east of Broadview, Toronto Ontario
Doors open at 7:00pm
All ages (18 years and below with adult accompaniment)

This show is a "United Way Toronto" supported Toy Drive with Toys going to an organization called Neighbourhood Center which is a Community Center located in the Main and Gerrard area.

http://www.neighbourhoodcentre.org/
$5.00 with Toy Drive. (new, unwrapped,non-violent)
$10.00 without.
Patrons under 14 years of age are free.
Purchases available at the door.
NUANCE Art Rock Exhibition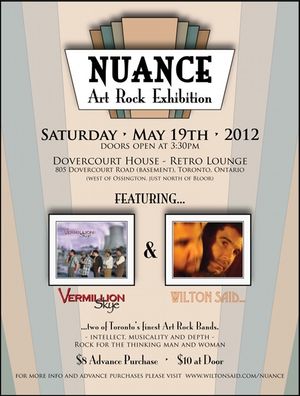 NUANCE Art Rock Exhibition
featuring

Wilton Said... and Vermillion Skye

Sat May 19th 2012 - Doors open at 3:30pm
at
the Dovercourt House - Retro Lounge
(805 Dovercourt Rd Toronto, Ontario.
West of Ossignton, Just North of Bloor St.)

Two of Toronto's finest Art Rock Bands take you on a 75 minute Journey of Intellect, Musicality and Depth.
This is Rock for the Thinking Man and Woman.

The host of the evening will be Stan Hilbourn, radio DJ of Adventures in Plasticland on CKWR. More info on him at
www.myspace.com/adventuresinplasticland


Check out the bands at their site

http://www.vermillionskye.com/
http://www.wiltonsaid.com